Alia Blackburn Biography and Wiki
Alia Blackburn is an American media personality serving as a reporter for FOX59 in Indianapolis, Indiana, United States. She joined the network in April 2021. Previously, she was a weekday morning co-anchor at WTHI-TV in Terre Haute, Indiana Area.
Alia Blackburn Age and Birthday
She was born in Indiana, United States. However her age is unknown.
Also Read: Christina Coleman Bio, Age, Family, Husband, Son, Fox News, Net Worth
Alia Blackburn Height
She is 5 feet 6 inches tall.
Alia Blackburn Nationality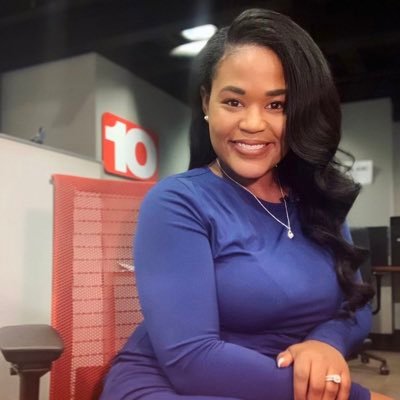 Blackburn is American by nationality. She also belongs to a mixed ethnicity.
Alia Blackburn Education
She graduated from Ben Davis High School in 2009. While there she found her true passion for television in the school's BDTV program. She also earned Bachelor of Arts degrees in Telecommunications and Journalism from Ball State University in 2013. During her time at Ball State, she became heavily involved within student media groups and organizations.
Alia Blackburn Parents
Alia is the youngest child to Pamela and David Blackburn. She is also an active member of her sorority, Alpha Kappa Alpha. However, she is not related to Alpha Blackburn, a philanthropist, fashion and interior designer.
Alia Blackburn Husband
Alia is married to Aaron. The couple tied the knot in November 2020. Together they live in Indianapolis where they bought their first house, with their dog Melo.
"My husband & I got married right in the middle of COVID last November and it was NOT easy. I was still working in Terre Haute & our pandemic wedding was featured in the local lifestyle magazine. So thankful God saw it fit for us to still have our day. Though it looked different than we planned, our guests remained healthy and that's all we hoped for," Alia wrote on social media.
On August 20, 2021, Aaron celebrated his birthday.
Alia Blackburn FOX59
Blackburn joined the FOX59 News team in April 2021 as a reporter/multi-media journalist. Alia comes from WTHI-TV, the CBS and FOX affiliate in Terre Haute, Indiana. For seven years, she worked a variety of roles including producer, reporter, weekend anchor and most recently, weekday morning co-anchor.
During her time in Terre Haute, Alia worked on stories that gained local and national interest. She also served as a media witness to two federal executions at the prison complex housed in Terre Haute.
Also recognized for her work as a reporter, Alia was named a finalist for a Spectrum Award from the Indiana Broadcasters Association for "Best News Feature" in 2017. She was also part of the station's Emmy-nominated memorial coverage for fallen Terre Haute Police Officer Rob Pitts.
She's thrilled to be back home in Indianapolis. In her spare time, she enjoys cooking, a lot of coffee and watching her Baltimore Ravens.
Alia Blackburn Salary and Net Worth
Her salary and net worth is under review.
Alia Blackburn Twitter